Double Pointed Weld Pins
Double Pointed Weld Pins - 10 & 12 Gauge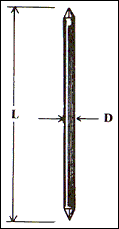 Double Pointed Weld Pin Specifications
MATERIAL
FINISH
"D"
min. "L"
FERRULE
Low Carbon Steel
304 Stainless Steel
Mild Steel pins are copper coated. Other coatings quoted upon request.
10 Gauge (.135)
3/4"
FB-2
See below
ANNEALING: All steel pins are made from annealed in process wire unless otherwise specified.
COMPATIBILITY: All pins are compatible and recommended for use with all brands of CD stud welding equipment.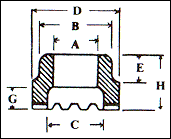 Ferrule Specifications
MATERIAL
A
B
C
D
E
G
H
Ceramic
.154
.281
.190
.375
.156
.065
.390
All orders include ferrules.